Setting the mood in your home is key. Check out these light bulbs that help you do that conveniently and affordably.
Flux WiFi Smart LED Light Bulb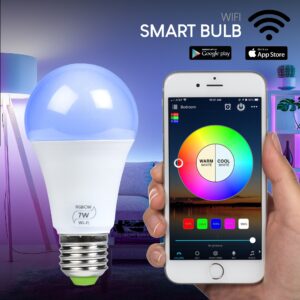 Flux WiFi Smart LED Light Bulb is an enabled bluetooth device with multi-colored and it is also an energy efficient smart LED light bulb which is used to control tablet phone or smart phone. This device knows as Flux Smart LED Light Bulb, it is a device that supports a color palette of over 16 million colors the likes of white, yellow andAi??vibrant blue white light. This is amazing LED Light Bulb which can be use according to your choice. Any user can control it from the internet signals and have a complete control on its light. You can change the colors of light of bulbs according to your desire. The one useful feature for such devices is that a user can control one or more devices through just one control panel. You just have to be in contact with your Wifi device and have a full command on the lights of your Flux LED Light Bulb.
The one amazing and cost reduction feature of these products is that these are very reliable and long useable products. The general warranty of Flux Wifi Smart LED Light Bulb is about for 5 years. The original and best LED bulbs are available in the large series of Flux smart lighting products. Normally these are very reliable and flexible in the cost of products and have a standard quality of products.
MagicLight Plus  Bluetooth
Now-a-days a number of electronic products operate through smartphones by using Bluetooth, Wi-Fi or data connection. Magic Light is a fancy item. Magic light is a colorful product having different colors. We can set a unique color or we can select random colors scheme by connecting the Magic light with our mobile phone via Bluetooth. On our smart phones we can download an app from app store to control the magic light. We will be able to sync the music player with magic light so that the light flickers according to the equalizer of music player and also light color changes when we apply certain options, similarly we can sync it with camera of mobile.
We can use Magic Light inside the Night lamp and can use our mobile phone to switch between different colors and to on/off the light. We can also save the colors from the color scheme. Magic light uses LED which saves energy. We can also set the brightness level and the LED used has a good lifetime. The magic light fits in the normal spiral holder. The Price of magic light vary from 30$ to 50$ this is because of the quality and design of the product that the bulb is available in different prices. However, Magic light is a wonderful product to make your life colorful and luminous.
Philips HF3520 Wake-Up Light With Colored Sunrise Simulation
Inspired and new product launched by Philips Lighting Range. This series ofcolored light have a vast list of possibilities which were not possible in past. Specifically in this Philip HF3520 Wakeup Light there is capacity that it can be use to wake you for a long period of time. It includes natural light which is useful to wake you in a natural light and in natural way. There are also many available sounds that can help you to wake up in the morning according to right time.
One of its basic and important features is that it works automatically. Its brightness of display adjusts automatically as when there is good light in your room then its brightness increases itself to provide you good light for your tasks. On the other hand, when you are going to sleep and you off the other lights then its brightness gets dim itself and does not disturb you while you are sleeping. At the time of your wake up if you want to snooze its sound then just tap it and then the sound of Philips HF3520 Wakeup Light will gets off. You can choose and set any brightness pattren according to your mood. It is the only product which is proved by many users for its uses. It is very natural in use and have no side effects on your health or daily routine.
Philips S456210 HUE White and Color Ambiance Starter Kit
New and improved Hue white and shading atmosphere unit now updated from 600 to 800 lumens with expanded inside capacity for included usefulness. Outline your very own lighting framework utilizing the Philips Hue A19 Bulb Starter Kit Includes 3 globules and all that you have to set up a remote lighting framework. Works with HomeKit for Apple iPhone coordination (IOS 9 clients only). Control your lights with Siri voice control. Transform your current Hue lights into HomeKit controllable lights and find energizing new uses through outsider Homekit applications. Product Description: Outline Your Own Non-open Lights System the utilization of The Philips Hue A19 Bulb Starter Kit Contains 3 Bulbs and The entire parcel You Want to set up a Wireless Lights System. New and improved Hue white and shading climate unit now overhauled from 600 to 800 lumens with expanded interior stockpiling for additional usefulness.
Plan your individual Non-open Lights framework the utilization of the Philips Hue A19 Bulb Starter Kit Contains 3 globules and the entire parcel you wish to need to set up a remote Lights framework. Works with HomeKit for Apple iPhone mix (IOS 9 clients simplest).Keep an eye on your lighting apparatuses with Siri voice Keep an eye on. Flip your current Hue lighting apparatuses into HomeKit controllable lighting installations and find energizing new uses through third festival Homekit applications Utilize your cell phone or pill to Keep an eye on by the utilization of applications Create and spare Lights "scenes" you'd like to make utilization of once more Likewise accompany fluctuating shades of white, from warmth to chill Bulbs have similarity into your current gentle fittings with a 10w screw base fitting; most elevated to be utilized as a part of table and floor lights, in addition to pendant, striking, or distinctive open apparatuses.