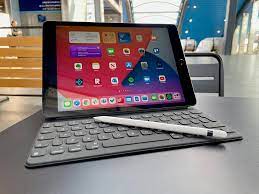 In my first impressions of the 9th generation iPad, I mentioned its incredible potential as a tool to help with learning – both in terms of performance and price. Despite its crummy design and lack of several features compared to more expensive models, is the new "educational" iPad worthy of attention?
Appearance and display
The design of the old… I mean new iPad can make many people confused. Looking at Apple's newest tablet, you might think "my iPad Air is practically the same thing!" And fact, from the looks of it, you won't find major differences from some of the previous models. The same button layout, the same Lightning port (they didn't even bother to change that!), stereo speakers located at the bottom of the tablet, and… a headphone jack. Unfortunately, you won't find it in any other Apple mobile device anymore.
On the left side there are pins used to connect an accessory in the form of a Smart Keyboard, available for purchase separately. The Apple Pencil does not attach magnetically to the side of the device, as it is solved in the new iPad Pro, Air and mini. It is charged by plugging it into the tablet's Lightning port and must be kept in a separate location. The new model – like its predecessor – has support for the first-generation Apple Pencil and is the last Apple tablet to support this version of the stylus.
As for the screen, it is a 10.2-inch size matrix with a resolution of 2160 x 1620 pixels at 264 pixels per inch. The maximum brightness is 500 nits and the refresh rate is 60 Hz. To the naked eye, you can notice the lack of screen lamination, which is a visible gap between the matrix and the glass. This is the same display that was present in the previous generation iPad. It was only additionally equipped with True Tone technology that adjusts the displayed colors to the environment, so that we can look at the screen better.
The tablet is available in several versions. We can choose from two colors: silver and star gray. The basic model has 64 GB of built-in memory, which is twice as much as the previous generation – and that's lucky, because 32 GB is far too little for today's standards, in my opinion.
Just like any other iPad model, the 9th generation is available in WiFi and WiFi+Cellular (LTE, not 5G) versions. In the latter we have the option of inserting a physical SIM card or using eSIM, while in the former we rely only on a hotspot.
Performance and multimedia
Although it's still the same on the outside, you'll find some pretty substantial changes on the inside. The 9th generation iPad is equipped with the A13 Bionic processor, also known from the iPhone 11. It is a 6-core processor, supported by 3 GB of RAM. When it comes to office work, there is no option that this iPad will let us down. All the apps I've used on my personal 2018 iPad Pro run without a stutter on the budget 9th generation. I mostly use Goodnotes, Notability, Apple Books, Docs, Teams and many, many more.
After switching from the iPad Pro, it seemed at first glance that the new iPad was quite slow. This is an issue closely related to the 60 Hz refresh rate. At first I had a hard time getting used to the twice lower screen frequency compared to my Pro. Exactly as when I bought my iPad two years ago I felt that my iPhone was stuttering because of the lower frequency, I felt the same here. However, this is just an illusion and, despite the higher comfort level of the 120Hz screen, in my opinion it is possible to switch back to the lower frequency.
In fact, users who have never experienced a higher refresh rate probably won't even notice what I noticed when using a much more expensive device over a period of several years. After one day of using the 9th generation iPad, the lower frequency no longer bothered me, and even using my Pro at times, juggling between 60 Hz and 120 Hz was no problem.
Playing games was also no problem at all. I had some free time over the period I used the tablet, which meant I could afford to have a bit of entertainment. The only games I play on the tablet are quite old Bloons TD 5 and popular 8 Ball Pool. Bloons, a seemingly simple strategy game, can run poorly on poor hardware. Game 8 Ball Pool, in turn, is not demanding. In both titles I didn't encounter any jams. No wonder, the A13 processor is a two year old chip, but it can still handle even the more difficult tasks without a problem.
During my testing, I also couldn't help but check out the playback of all sorts of media from various streaming services. Netflix is able to play videos up to 1080p, which already looks very good on a screen with this resolution. YouTube even has an option to choose 4K quality, but if you care about data savings and good quality – the best option will be 1440p, which in my opinion on this tablet looks as clear as the highest one. With the playback of videos from the Internet from various popular sources, the new iPad coped as well as with the applications I mentioned above.
The 9th generation iPad is equipped with stereo speakers. However, they are not located on the top and bottom of the tablet, but on both sides of the charging port. Despite the very good sound quality, unfortunately, I missed the space provided by the speakers on either side of the tablet. When watching any video in landscape mode, you hear the sound on either the right or left side, depending on how you hold the device. For quiet listening to music or podcasts these speakers will work perfectly. They play very clear and have just the right amount of bass.
An interesting move on Apple's part is leaving the headphone input on the entry-level iPad. The company got rid of this port from all its flagship smartphones in 2016, and from its flagship tablets in 2018 as well. Nevertheless, such an addition is a rarity these days that I couldn't pass by. Connecting the 9th generation iPad to my tower, which does not support wireless technology, I enjoyed the ability to listen to music from Apple Music in Lossless quality without the use of a laptop or any adapters.
Why the name iPad "edu"?
iPads in their basic form are quite popular with students. They can really serve many functions, both for the student going to class stationary and the one studying remotely. I personally have been using an iPad as my main notebook for over two years. I stopped carrying notebooks that I often forgot to pack in my backpack. I also don't have to carry a ton of books that weigh down my spine. All that can easily be replaced with a single tool – the iPad.
I use GoodNotes to take notes. I like the way it organizes my notebooks and the comfort of writing and drawing. In the notebook, we can set any type of paper we prefer: line, grid, or any template we downloaded from the Internet or made by ourselves. While writing, we can easily make simple lines and shapes and the program will help us with that.
The latest update also adds the ability to attach something like sticky notes, on which we can write comments and notes to hand-written notes. This program contains everything we need to stop taking any paper books or notebooks. Unfortunately, some may be saddened by the price – 37,99 PLN. I made this purchase almost 4 years ago and to this day I do not regret a single penny spent on this tool. This is the cost of 3-4 A4 company notebooks – it is worth thinking about 😉
For those who do not necessarily need an extensive program, but are looking for a simple and cheap alternative, there is a Notes application pre-installed. It allows you to comfortably write text on the keyboard as well as by hand. I have never been a fan of it. Sometimes it happens that I use the system Notes to write some very short texts on the keyboard, while handwriting is much better with Good Notes o
r Notability.
I use Apple Books and Google Play Books to view PDF books (and more). In the former, I store short worksheets or individual pages. In Play Books I keep whole books because, in my opinion, the layout is nicer and more pleasing, which makes it much easier and faster for me to find the title I need. Both applications are free and you can use them alternately. The only difference is of course the visual one – you have to decide which one you like better.
For editing, tagging or signing documents, Notability works great. Thanks to the iPad, I gave up printing contracts and "papers". I sign and fill out everything on the tablet. I intentionally have a separate app for this so that my documents don't get mixed up with my notes for college. In Notability, each contract and paper is added as a separate note, which can be added to a category and renamed.
Of course, all the apps I mentioned above sync through iCloud. This means that even if our hardware is lost or destroyed (which I hope never happens) all our data is safe and we'll be able to access it from other Apple devices. Synchronization happens virtually instantaneously, so forgetting the iPad, we can look at notes on an iPhone or Mac.
When it comes to remote learning, or in my case remote lecturing, I used the Microsoft Teams platform. The 10.2-inch screen is more than enough to comfortably absorb the information from the lecturer's presentation, and I didn't drop more than 15% of my battery in two hours of class – a great result for resource-intensive Teams.
Cameras and FaceTime
A new feature that was first reserved for the more expensive iPad Pro, which we also find in the latest 9th generation iPad, is the front camera and Center Stage support. As someone who uses FaceTime heavily and talks many hours using this app, I have to admit that the new camera makes a huge difference when calling loved ones.
The main difference from the previous model is the increased resolution of the selfie camera. This is the same lens we find in the iPad Pro – until I myself couldn't believe that Apple equipped its cheapest tablet with one of the features of the flagship one. The selfie camera has 12 megapixels and a 122-degree field of view. It supports video recording up to 1080p at 60 frames per second.
The front camera angle is so huge that when talking over FaceTime, I can walk across the room and the tablet will track my face zooming in properly aligning the frame. For me, the Center Stage feature is simply irreplaceable. When talking through my 2018 iPad Pro, I was always annoyed by the very high zoom on my face. I had to position the tablet quite far away to be able to see my face clearly, and I could only dream about showing the whole room with the front camera.
I usually skip over the topic of the rear camera on a tablet, and that will be the case here as well. I just think that almost no one buys a tablet with taking pictures in mind – it's very inconvenient! The rear lens has only 8 Megapixels and is rather unsuitable for anything, except possibly scanning documents.
Video will be recorded in maximum Full HD resolution at 30 frames per second. This is quite a rare case of the front camera being superior to the rear camera. And it's good that Apple decided to make changes to the more useful one.
Good old Touch ID?
The 9th generation iPad, despite having the front camera from the iPad Pro, didn't inherit Face ID facial recognition technology from the iPad Pro. Instead, the only biometric security is the fingerprint reader familiar from previous Apple tablets and smartphones – Touch ID. I thought Apple would finally get rid of the old first-generation line readers known from the iPhone 6 and previous iPads.
Unfortunately, in this model you won't find the newer second generation fingerprint reader used in the first iPad Pro or even iPad Air 3. The first generation reader used in the iPad model I tested is quite slow and even though it doesn't take that long to unlock the screen, sometimes it doesn't capture my finger the first time.
Where do I truly miss Face ID? When auto-completing passwords and identifying yourself with biometrics in various apps. On my personal iPad Pro 2018, all I have to do is look at the tablet screen and the password auto-completes. On the basic iPad, I have to put my finger on the reader every time – not a demanding process, but it definitely takes longer than Face ID.
Gestures vs. the "Start" button
The new entry-level iPad, along with the 2nd generation iPhone SE, are the last devices sold by Apple to feature a "Start" button. In addition to serving as security through the button's built-in fingerprint reader, it is also used to return to the home screen.
Fortunately, being accustomed to the gestures of Apple's new smartphones and the iPad Pro, which lacks an under-screen button, I don't have to wean myself from the gestures I've grown accustomed to over the years. As of iOS 12, all iPads support a whole range of gestures. Swiping up to exit an app is something that has become so ingrained in me that I don't think I would be able to change my habits anymore.
Battery
A very positive surprise, and indeed a thing that reminded me of one of the greatest strengths of older iPad models, is the battery. Since my purchase of the 2018 iPad Pro, I've grown accustomed to the fact that Apple's new flagship tablets are quite power hungry. I can rarely squeeze more than 5 hours of use out of my 11-inch version. With games and more intensive tasks, the battery life drops to 3-4 hours.
The iPad 9. generation in this regard did not disappoint me. The manufacturer declares 10 hours of Internet browsing on battery power. During the tests I used iPad very intensively. I often played a game, while talking on FaceTime through the picture in picture function. With such an intensive and power-consuming use of the tablet, the battery life on the screen was almost 9 hours!
There were, of course, days when the battery usage was not so good, while this usually involved higher brightness and more powerful use of the hardware. Even in those cases, battery usage reached 7 hours.
FaceTime, which I call the battery killer on the iPhone, was only eating up about 50% of the battery on the new iPad during a 4 hour call. Considering the new Center Stage feature is enabled, that's a really good result.
I think we seriously don't need to worry about battery. Since even I didn't manage to discharge it during the day, it will last all day long – even during intensive work. And if you leave iPad unused in standby for a few days, you can be sure it won't discharge.
The set includes a 20W charger with a USB C – Lightning cable. The power adapter is also in the box, which is not so obvious these days. The included charger will charge the tablet to full in about 3 hours. It's not a great result, but for a 32.4 Wh cell and a rather weak charger – it's not too bad.
Price
The basic version of the iPad 9. generation costs 1699 zloty. For the version equipped with 256 GB of memory you need to pay extra 800 PLN, and additional mobile network support costs another 650 PLN – regardless of the memory version.
If you are a student, you can use the Apple store page for education, in this way you will get a discount of 6%, so you can save 100 PLN on the basic model. Not much, but always something.
As for the optional accessories available for this tablet, for £479 you can buy the first generation Apple Pencil stylus, while for £749 you can get the Smart Keyboard.
Summary
The basic iPad 9. generation is not a novelty. It does not surprise with its design, nor does it have some of the features offered by its more expensive "brothers". However, it is a great work tool. This is the kind of device that is supposed to do its job. It's supposed to be trouble-free and seamless, it's supposed to run our favorite apps, and it's supposed to receive security and system updates for the next few years. And that's exactly what the new entry-level iPad is.
The changes made to it from the previous model may not seem like much, while the newer processor and great front lens make it even more worthwhile. From the previous generation it certainly inherited versatility and a very good battery, in my opinion incomparable to more expensive iPad Pro of similar size.
The lack of screen lamination and low refresh rate is compensated by a good quality screen, but also – above all – the price. The low cost is exactly the argument that catches the attention of many people considering the purchase of an iPad. It is a perfect solution if you are not sure if you need a tablet at all and you do not want to spend money on it that would buy a good computer.
Whether we use it for studying, for work, for playing games, for watching series and movies, or all at once, this inconspicuous tablet can handle any task.
And I think that's what makes it so popular.