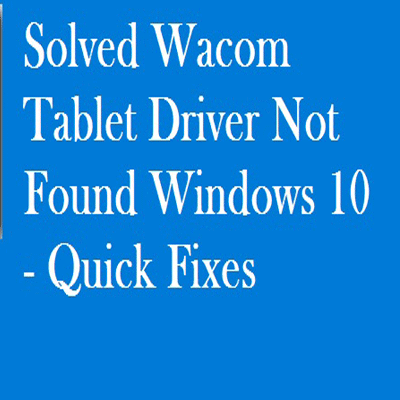 Sometimes when users think about beginning their usual work with the help of their system and try to start the alternatives given by their Wacom tablet. They see that it has stopped responding the way it was doing it before. On the screen now you would be able to see this error text below explaining as TABLET DRIVER WAS NOT FOUND
By following steps you can make it work for you properly.
1). Restart or Reboot Wacom Table Service:
In the first step, you will click the Windows logo key and R together to Open the Run application.
Then write services.msc and tap OK button.
After the above steps, you will find and right-click on your Wacom tablet service.

Note: The name of service can differ from unlike Wacom tablet products, according to their model and accessories available.
It could be like this:
Wacom Profession Service
Wacom Consumer Service
TabletServiceWacom
Touch Keyboard and Handwriting Panel Service
Tap Reboot or Restart. In case you are unable to search Restart or Reboot option then you can tap Start option.
In the last step of this method, users can open the options of their tablet and see if everything comes to its place back.
2). Reinstall or Restored Wacom Table Driver:
The Wacom tablet driver was not found issue could also be a reason for an outdated mislaid or viruses tablet driver present on your Windows. Users can do it through fixing it and restoring their tablet driver.
You can just go for these steps:
Users can unplug the Wacom tablet from their Windows 10.
After doing that you can install Wacom tablet driver again.
Now you can just Right-click on the Start button and tap Device Manager.
Now search and extract Human Interface Devices and right-click on your Wacom tablet driver to select how can you clear away your device.
You can install an updated version of Wacom tablet driver.
Manual Method to Driver Update:
Users can modify their Wacom tablet driver on their own by visiting the Wacom webpage and finding the best and newest driver for their tablet. They should be confident about selecting only that driver that is safe according to the functions of Windows 10.
Method to Resolve Wacom Driver Not Found Error Without Restart Windows:
As the initial step user will Go to the start menu and open it after doing that write Services.exe and tap the Services.exe option that will visible on your start menu.
In the second step you will scroll the cursor down in Services.exe till you can see TabletServicesWacom, and right click that beast.
As the last step, you have to just reboot your system.
Sometimes out of nowhere when Wacom tablet driver not found on your system it would be kind of hectic and time consuming trying to fix it. By following methods you can fix your trouble easily.