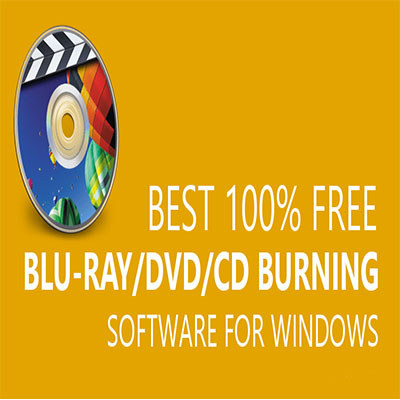 Updated: September 08, 2021
Upgraded to Windows 10 and now looking for a software to burn Blue-ray discs? Blu-ray is the new trend among quality media content lovers and it has definitely made DVD look a thing of the past, even if it is of HD or full HD resolution.  Most of today's computers come with inbuilt Blu-ray burners or if you want, you can always purchase an external Blu-ray burner. Even though Blu-ray discs are expensive, still they will be the norm in the coming days.  In today's post, we will be having a look at the 5 best free Blu-ray disc burning software for Windows 10. Well, you can also install these Blue-ray burners on your non-Windows 10 PCs as well.
There are quite few Blu-ray disk burning software out there in which few are premium and few are free. In today's round, we will be mainly looking at the free Blu-ray disk burners for your Windows PC. The below-mentioned disk burners can not only burn Blu-ray disk but are also capable of burning CD, DVDs and creating a bootable disk from the ISO image file.
5 Best Free Blu-ray Disc Burning Software for Windows 10
1: BurnAware
BurnAware comes in both paid and free version, where the premium and pro edition would offer few extra features. The free version of BurnAware can create and burn standard data CDs, DVDs and mainly the Blu-ray disks. It has a very easy to use interface. Apart from this, you can also use BurnAware burn ISO images files and create data backups on your computer. It comes in three edition namely, Free, Pro, and Premium.
Features of BurnAware:
Burn Blu-ray disk, CD or DVD
Burn ISO files or boot disk images
Create Bootable CDs using the ISO files
Create a backup of your Data on CD
Recover files from damaged discs or different sessions



2:ImgBurn
ImgBurn is one fully functional disk burner, which comes with a price tag of $0. If you like the software then there is surely an option to make a contribution to the project which is completely optional. Talking about the feature, the ImgBurn has the very basic user interface with all the features visible from the main menu. It can burn CD / DVD / HD DVD / Blu-ray disks with ease. Other formats supported by this software are BIN, CCD, CUE, DI, DVD, GI, IMG, ISO, MDS, PDI and more. Apart from Windows PCs, with the help of Wine, you can run this tool on Linux running machine as well.
3: CDBurnerXP
CDBurnerXP is yet another free Blu-ray disk burner application, which can also burn CD and DVDs. it has a Multilanguage interface so language shouldn't be a barrier. Key features of the CDBurnerXP includes burning all types of discs, burn and create ISO files, data verification after burning process completes, create a bootable disk, ISO converter, simple cover printing and supports all the version of Windows operating system including Windows 10.
4: True Burner
True Burner comes with similar kind of features as offered by the aforementioned software. It can burn blu-ray disks, CDs, DVDs and other standard formats. It has a very easy to use interface. The features are limited but enough for any causal Blu-ray disc burning tasks. All you have to do is, download the software, install and run it. Next, select your Disk, select the format and start burning. If you have a re-writable disk, you can erase the data from it and reuse it. Bootable disk creating feature allows you to create the bootable disk from ISO image files.
Features of True Burner:
Ability to burn standard and multisession CD / DVD and Blu-ray disks
Create Bootable Disks using ISO Image
Create MP3 or Video disks
Check for errors in the written disk
Erase re-writable disks and burn them


5: StarBurn
StarBurn is a feature rich disk burner, which comes with features like DVD-ROM emulator, recording to remove CD/DVD/Blu-ray/HD-DVD burner over TC /IP (only with premium version). The StarBurn is also available in portable version; however, the portable version lacks some feature compared to non-portable version. You can download the portable or installable version from the official website.
So this was our list of best free Blu-ray disc burning software for Windows 10 or any other Windows OS version including Windows 7, XP, 8 and 8.1. Do share your thoughts or if you have any better disk burning alternative in the comments below.