Updated: September 01, 2021
Microsoft's latest web browser Microsoft Edge. Even though Microsoft has changed Internet Explorer with Edge, it didn't change the place of default web browser in Windows 10. Microsoft Edge is the default web browser in Windows 10 and that is no surprise. However, one thing, which has changed is the steps involved or the process to set default web browsers in the OS. I want to know how to set your preferred browser as a default browser, here we have few steps to set Chrome or Firefox as a default browser in Windows 10.
Microsoft wants the Windows 10 user to select a default app for mail, calendar etc applications explicitly, which includes web browsers as well. Web browsers like Firefox and Chrome don't have the option to set them as default browser during the installation process.  This change obviously did not go well with Firefox and they came heavily on Microsoft.  They want Microsoft to undo the changes and let the user decide if they want to make the web browser by default at the time of installation.
Microsoft's argument is that during the upgrading process, users have the choice to set default apps including web browsers. So, if the users want to set anything as default they can do so. Nonetheless, Microsoft would surely want its Windows 10 user to experience the newly built Edge browser, which otherwise people would opt for Chrome or Firefox by setting them as the default browser at the time of installation.
Now, what happens is that during the upgrading process you might have skipped the default app setting option and now wants to set Firefox or Chrome as a default browser in Windows 10. Or if you deal with too many add-ons on your Firefox or Chrome browser, then Edge is yet to make progress in that department. Even if you use your browser to sync your data, then it would probably a good option to set the default browser to what it was before. Nevertheless, here is how you can set up Chrome or Firefox as a default browser in Windows 10.
Set Firefox or Chrome As Default Browser Windows 10
Now there are three methods to set a default browser in Windows 10. You can follow any one of the following.
Method 1: Set Default Browser from App Settings
Begin by opening the Start Menu. In the Start Menu type, "default app settings" and hit enter to bring it up.  Next, click on the Web browser and select the Firefox or Chrome to set it as the default browser. You will notice that by default Microsoft Edge has been selected as a default browser.
Method 2: Through Control Panel
You can also set Firefox or Chrome as default browser from Control Panel. To do this, open Start Menu and type in "default program". Next, hit enter to bring up the Default Program window. Next, click "Set your default programs". Next, you would see the list of apps, click on the browser (Chrome or Firefox) which you want to set as default. Next, click on "set this program default" on the right.
Method 3: Set default Browser from Firefox Settings
Open Firefox browser and click on Menu button (three horizontal lines). Next, select Options from the list.
Click on General Tab and select Make Default button.  This will bring up the Windows Settings App.
In Settings windows, click on the Default Apps tab. Now scroll down and find Web browser section. Under web browser section, click on Microsoft Edge.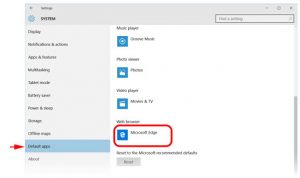 Next, you will see Choose an app Pop-up Window. Here, select Firefox from the available browser list to set it as default web browser.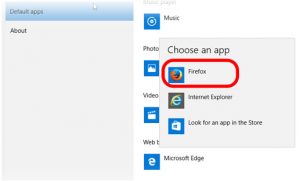 There you go! You have successfully set Firefox as default browser in Windows 10. If you want to set Microsoft Edge as default again then go to Firefox Menu > Options > Make Default > click on Reset button under Default apps tab.