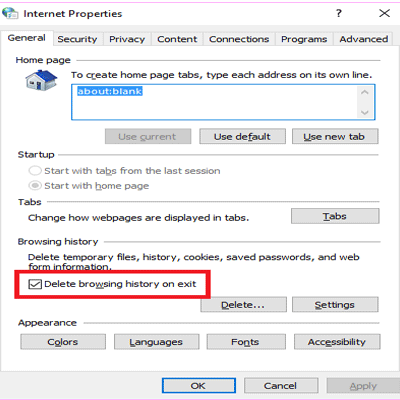 Clear browsing History is very important to keep your privacy-related stuff secure. Both online, as well as offline privacy, is significant especially for a newbie it is more important. There is no doubt about the fact that browsing the internet in incognito mode is the best method to do it and it's better to know how to erase browser history.
In this article, we will help you to remove browser history easily. In case you need to go a step ahead and keep your surfing history secure from remote services there are these following VPNs that users can apply for Windows and MacOS PCs.
1- Google Chrome Brower Clear History
It is one of the most well-known web browser everywhere, as many people are there who might probably utilize Google Chrome. In case you are using Chrome and that is your main browser, here's how you can clear browsing History.
As first step tap the button that shows three vertical dots. You would be able to see it in the upper-right corner of your browser to open a drop-down menu. After that choose the option of "Settings".
Now go down and press the "Advanced" link next to the down arrow.
Keep scrolling down till the time you see "Clear browsing data" and tap it.
Here you will see an opened window in which you can choose the particular data you want to remove, like install history, cookies, and passwords. You can also choose Browsing history by choosing the window of that certain time you need to remove. It can be the past hour or the very first day of your browser's history.
After choosing and determining how much information you want to erase just tap "Clear browsing data." It's the same for Chrome in MacOS, disregarding the fact that the three-dot button doesn't exist. Just press on Chrome in the menu bar and choose "Clear browsing data…" to get the screen options above. You will see that your browser's history has been removed.
2- Safari Browser Clear History
Safari is one of the most common browser preferences on Apple platforms, and users can erase its history as easily as they can do Google Chrome. From Safari you can clear your browsing history by these below steps.
First, you can search for the "History" tab at the top of your screen and press "Clear History…"
You will see an opened window that adds a drop-down menu, permitting you to choose what window of time you want to erase.
At the end when you choose the time frame you need to remove, just tap the button named "Clear History."
3- Firefox Browser Clear History
Here users can remove browser history on the desktop by pressing menu > History >Clear. You can also tap Ctrl+Shift+Delete to open this device on Windows or can tap Command+Shift+Delete on a Mac.
In case you want to remove your whole browsing history, choose "Everything" at the top of the window and see in the detailed category of items to delete "Browsing & Download History". Users can also select to remove other kinds of private data from here, like website-specific preferences, cookies, offline website data, and browser cache.
4- Edge Browser Clear History
One of the oldest as well as have the capability to deal with the demands of advanced browsers is Edge. Below is the method through which users can clear their browsing history.
As the initial step tap the Hub button, it seems like lines that aren't equal. After that press the History button which is just like a clock with an arrow running counter-clockwise.
Now choose "Clear All History." It will give you options outlining the kinds of data you can remove. Let it confirm first and then choose "Browsing History."
At the end press the gray "Clear" button.
5- Internet Explorer Browser Clear History
You can remove browser history by tapping menu > Safety > Delete Browsing History or clicking Ctrl+Shift+Delete. Let it confirm that the "History" option has been checked and press "Delete". Users can also select to delete other kinds of private data from here, like their temporary Internet files, cookies, and installation history.
Internet Explorer will keep cookies and temporary Internet files for webpages by default and that you saved according to your choice. Then uncheck "Preserve Favorites website data" here to make sure that Internet Explorer removes everything.
In case you are utilizing some other browser, you should be capable to find a "clear browsing history" option in its menus or on its settings screen. Like in Opera, this option is present at the menu > More tools > Clear browsing data.
6- Opera Browser Clear History
Opera has been reliable for a long time. Here's how you can clear your browsing history from Opera.
First, tap the History icon in the left-hand menu. It seems like a small clock face.
Press the "Clear browsing data" button on the right-hand side of the screen.
After the completion of the above steps now choose the information you want to delete and the certain time you need to erase it and press the blue "Clear browsing data" button.
Conclusion:
With the help of this article, users can easily remove their browser history for the sake of security without any trouble.