A year ago, Samsung updated its flagship smartphone series, the Galaxy S21 product line consisting of S21, S21+, and S21 Ultra. Although there is no doubt that we are talking about premium devices corresponding to the category. The novelties of the South Korean manufacturer were not at all innovative, even with great goodwill. The smaller devices had only undergone the mandatory creasing, and the Ultra, despite its extreme photography capabilities, was not even near being the best camera mobile of the time.
The compulsion for mobile manufacturers to come up with newer and newer flagship phones every year naturally leads to the fact that it is increasingly difficult to show users something new and exciting.
Of course, phones are getting faster every year, batteries are getting bigger, screens are getting nicer, and cameras are taking better pictures, but really interesting new things are very difficult to flash. In the past year and a half, Samsung has stirred up the standing water with its phones with bendable displays. But just five months after the premiere of the Note20 phone. The next presented S21 mobile phones were not at all impressive enough to be honestly enthusiastic about them.
Forward on the Path Marked by Apple
Last fall, Apple was the first to not pack earphones and charging heads with its phones, and the Cupertino company has since been joined by Xiaomi and Samsung. Accordingly, the box of the S21 phone, which cannot be called cheap in any way. Also had neither AKG earphones nor a charging head, you only got a cable.
Little Brothers: Galaxy S21 and S21+
There is no point in talking about the Galaxy S21 and S21+ devices separately since they are phones with almost the same capacity except for the screen (6 and 6.7 inches) and battery size (4000 and 4800 mAh). As far as the appearance is concerned, Samsung has returned to flat glass for these mobile phones. I experienced it as an absolute positive that the back panel this time is made of high-quality plastic.
Of course, many people complain that this is sacrilege for high-end phones, but I do not agree with this, in several ways. On the hand, the difference is hardly noticeable compared to the Ultra glass solution. I think the matte color is more elegant than the shiny version. On the other hand, the cover of the smaller models is not slippery (so they don't fall off everywhere). They are especially pleasant to hold, and in case of a fall, you don't need a spider web to count with a broken back.
In terms of design, it is a novelty that the camera island on the back is actually no longer an island. As we get a solution that merges with the metal frame. This solution is particularly striking for colored devices, less so for black ones, but overall. This appearance is mainly good for distinguishing the S21 phones from the Note20 models from the back. The features are also quite distinctive from the Galaxy A series though you can get a nice A-series phone at a much lower Samsung A32 retail price, the build quality won't be that premium.
As for the display, we again get the maximum available on the market. The brightness of the AMOLED panel is over 1000 nits, the colors are wonderful, the contrast is perfect, HDR10+ support is provided, and the display is simply gorgeous. Although the resolution has decreased compared to its predecessors, "only" 2400×1080 pixels, in return it comes with adaptive image refresh, which, if necessary, runs up to 120 Hz. Ensuring the smoothest possible experience for users, not only when scrolling through menus and applications during, but also for some games.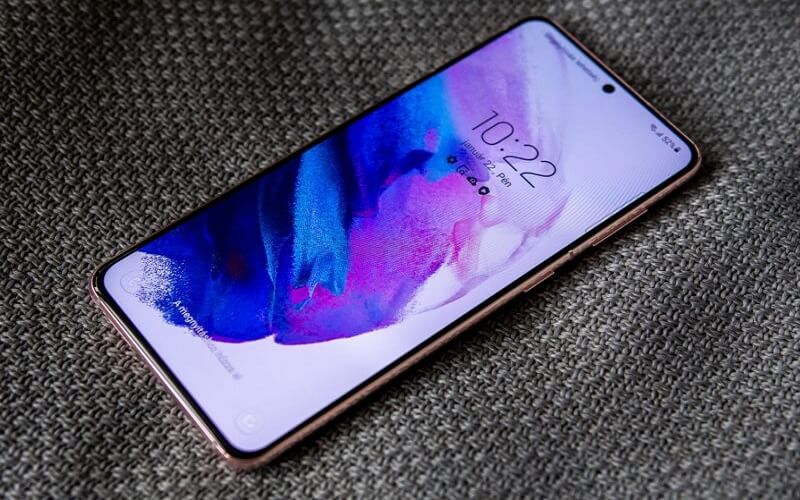 In terms of hardware, the S21 and S21+ also have nothing to be ashamed of: the domestically available variants are equipped with Samsung's self-developed, 5-nanometer, eight-core Exynos 2100 processor, together with 8 GB of RAM. In the Antutu benchmark program, it was possible to extract values ​​of around 660 thousand points from both phones, with which the mobile phones tick off 97 percent of the currently available devices – only the Huawei Mate 40 Pro and the Xiaomi Mi 11 can do more. It goes without saying that all of this is enough to run all the apps out there without a hitch, and with few exceptions, games slide through this setup in a way that's a joy to watch – especially if they support 120Hz refresh.
The cameras have not changed compared to last year: there is a 10-megapixel unit on the front, and the same trio as on last year's S20 and S20+ models, with the difference that the TOF depth sensor has disappeared in the case of the S21+ – which is unlikely for many users will be missed. As for the quality of imaging, thanks to Samsung's new software, there is a noticeable improvement, and overall, Samsung delivers what is required: excellent photos can be taken with both phones, whether it is about colors, detail, or sharpness.
The maximum optical zoom is three times, but it is difficult to tell that you have zoomed in with the pictures taken this way, and even with the hybrid solution there is no serious deterioration in quality, especially if you put the device on a tripod. Like last year, the maximum zoom is now 30 times, but just like at the beginning of 2020, this doesn't make much sense now: the quality of the images shot this way is poor, and even the fact that they are mainly the results of software work, which are laymen on the subject, tells us about them. The 12-megapixel main camera is even less ideal and great pictures can be taken even in the evening lighting conditions, but the wide-angle unit was not designed for this, and even the software assistance cannot significantly improve our pictures here.
As for the video, 8K resolution is already available here, at a speed of 24 frames per second, but even in 2021, this does not make much sense. At 4K, in addition to 30, there is also 60 fps, and the latter image update is also available in super stable mode, although only with Full HD resolution. An interesting new feature is the director's view, where you can see the live image of all four cameras, and in addition to being able to switch between views (picture in picture, split, single picture), you can freely switch between the rear lenses during recording. Average users will hardly use this option often, but it offers interesting options for more creative people or content producers.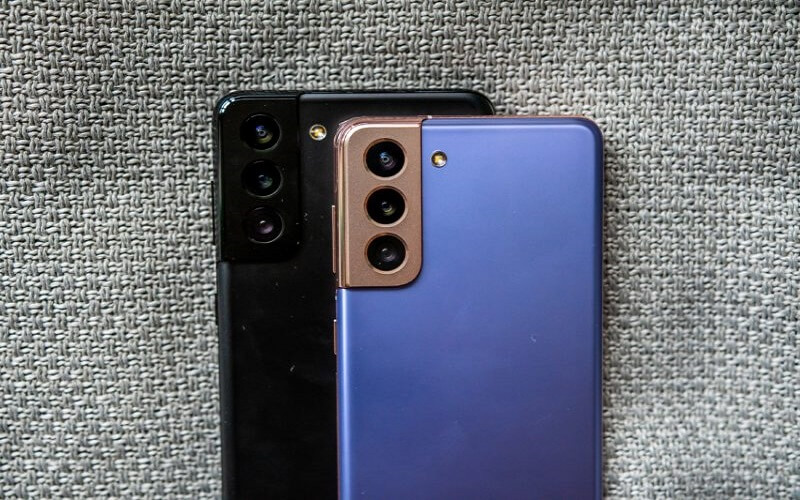 Since it is 2021, both phones can support 5G, Wi-Fi 6 is a given, we get water and dust resistance according to the iP68 standard, and two SIMs can be inserted into the device at the same time, but we have to give up the storage expansion and have to reach 128 or 256 of our choice with GB storage. It is also disappointing that even though we are talking about Rs. 175000 – 233000 (USD. 785 – 1045) devices, we have to make do with a maximum of 25 watts of charging when wired, while the ceiling is 15 watts wirelessly.
In the case of the S21 with 4,000 milliampere hours, depending on use, one or a half days of operating time is obtained, and with the S21+ equipped with a 4,800 battery, two days is already unattainable. Regardless, I feel that the 80,000 forint difference between the two models is too much, and in general, I consider the plain S21, which is more compact and available in several colors, to be a more realistic and overall better purchase.
Samsung Galaxy S21 Ultra
The Ultra is mostly different from its little brothers in that it is much bigger and offers much more in terms of cameras. The display is 6.8 inches, has a resolution of 3200×1440 pixels, finally at 120 Hz, and the brightness here already reaches 1300 nits, and it is also compatible with the S Pen. So the same functions as the Note- in the case of a series. All of this is commendable, but a pen (and a case suitable for storing it) is not packaged with the phone offered for around half a million. In connection with this innovation, I got the feeling that Samsung did this in order to relativize the high price in the absence of really striking novelties.
The processor here is Exynos 2100, the memory can be 12 or 16 GB, and the storage can go up to 512 GB, but expandability must be waived here as well. In terms of performance, the Ultra delivered the same results as the other two models: even though it is now the absolute top for Samsung. There are previous devices running Android that this hardware could not beat. It is also important that the battery here already has 5000 milliampere hours, and this device has already been marketed with the latest Wifi 6E standard.
Of course, the focus is clearly on the cameras: there is a 40-megapixel unit on the front, which allows you to take perfect selfies in all conditions. Even with several people, but the real thrills await users on the back panel, a very large sensor area. This time, the lineup consists of a 108-megapixel main camera, two 10-megapixel telephoto lenses, and a 12-megapixel wide-angle unit. You could only find lower camera qualities in Chinese product catalogs. After all, one can not expect a high-tech main camera at an affordable Realme C35 price in Pakistan.
The main camera has not changed on paper, but we get a better sensor. Which results in better pictures, and there is no problem with the autofocus. Using this, up to 108-megapixel photos can be taken, which are amazingly detailed. But the standard 12-megapixel photos are also at the forefront of mobile photography, whether during the day or at night. The same is no longer necessarily true for the wide-angle unit: in less-than-ideal lighting conditions, the result visibly deteriorates here. Especially at the edges of the images, and at night it is only possible to produce good photos with a tripod.
Samsung made a big splash the previous year with the S20 Ultra the 100x digital zoom offered for the first time among mobiles, this has not changed later. But there is no doubt that the S21 Ultra stabilizes much better. Thanks to this the end result is somewhat more good. Of course, these photos still have no practical use, this year they can only be seen as an interesting tech demo. Which shows where phone photography has developed. The 30x hybrid zoom is a much more meaningful option. As we can now take pictures that are acceptable, but we do really well with the 10x optical zoom instead. If you are clever enough, we can take enlarged photos here that cannot even be imagined to be taken with magnification. Thanks to the well-functioning optical image stabilizer and autofocus.
Samsung has put together a very serious camera phone, but it has a lot of nuances that in some cases (wide-angle images) the device does not reach the level of the Huawei P40 Pro+ launched months ago, and in other cases, it does not (night photos), or only to a small extent (magnification) it can surpass the Chinese competition. Of course, Samsung is better in the video, and the undeniable advantage is that you get the entire Google ecosystem here, but in terms of technology. They didn't flash enough to make you feel like you're getting something that's never been seen before – especially for a device worth half a million dollars. Would still be expected.
To Whom Can These Phones Still Be Recommended?
What we have already noted in the case of the Samsung Galaxy S20 Ultra is also valid next year. The S21 Ultra is endowed with hardware and capabilities that the average user will never take full advantage of. The flagship device is therefore of particular interest to those who always want the best of everything, their everything is mobile photography. They take advantage of the 108-megapixel resolution, 4K/60 fps video, and DNG RAW format. And they stick to Android and don't want or they cannot opt-out of Google services.
The plain S21 and the S21+ are different. In my opinion, the plus does not offer much more than it costs, but the basic model. Which can be taken home for less, is a decent phone. As a user who is a fan of innovations, it doesn't particularly excite me, but it is undeniable that it is a device that can be a great companion in all respects for the next three years for those who are willing to spend so much money on a mobile phone.
Read Also:
iPhone 13 Pro Max Review
Top 10 iPhone 7 Plus Cases And Covers
How to track an iPhone?