The time when users have been upgraded to Windows 10 for Anniversary Update, they faced weird module in the Windows Service, which wasn't available there before: CDpusersvc <Failed to Read Description. Error Code: 15100. Users think that it seems to be ridiculous that Microsoft hasn't responsible any description regarding this module because it doesn't know what kind of services it provides and how does it work.
It has also been complained by users of Windows 10 that CDpusersvc messed up. They said that they are receiving issues about logs for services which utilize it. Apart from that, there are other problems regarding safety. The most bothersome thing is that users are unable to get what is the true nature of the application is, so they can to maintain it for its proper utilization.
The best part is that users can easily get rid of this error because it doesn't affect Windows in any way. In case it causes consistent issues then you can erase it by utilizing Regedit.
Different Ways to Disabling CDpusersvc in Windows 10:
CDpusersvc error code 15100 pops up on your system and cause a lot of other errors. When talking about CDpusersvc and other errors, the following are some of the most frequent issues that users have complained about:
CDpusersvc has stopped responding, crash: Users have said that this procedure can crash most of the time or provide you the message that it has stopped responding or working. In case it occurs, it's suggested to disable the whole process by modifying or editing your registry.
CDpusersvc virus: That procedure might probably seem like malware and but I think it should be safe. In case you're conscious that your system gets infected, you should go for a complete system scan. Hopefully, the issue resolves.
CDpusersvc failed to read: It is an issue that can start with Cdpusersvc and to solve the issue, you have to try deleting and blocking those updates that are causing the error.
CDpusersvc high CPU: This process utilizes many resources and Microsoft is already acknowledging this error, so the solution should be accessible in form of  Windows 10 update.
Following are some procedures through which users can resolve cdpusersvc error:
1. Change in Registry
Users can resolve CDpusersvc error code 15100 by modifying their registry. The registry has every type of private information. It permits users to disable many other services like this one.
But modifying or editing the registry is a bit dangerous so users have to be more cautious. Users can modify their registry and it will help to disable this feature by going for the below steps:
As initial step tap Windows Key + R and write regedit then click Enter or press OK.
The time you see that Registry Editor opens, go to

HKEY_LOCAL_MACHINE\SYSTEM\CurrentControlSet\Services\CDPUserSvc.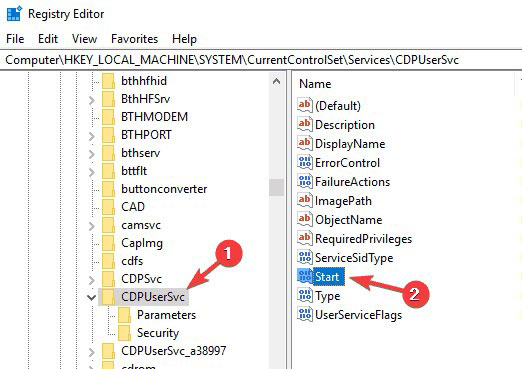 Now replace Start value data from 2 to 4 (Disabled).
In the end, just reboot PC and you will see that CDpusersvc should disable. You would also be able to see the number is dissimilar now (CDPUserSvc_35375) but confirm it first that the module has been disabled.
2. Erasing Problematic Update:
Users have said that after updating they have seen CDpusersvc error code 15100. In case it happens, it is suggested that you have to search and delete the updates that are causing errors in your system. In case you downloaded system update not a very long time ago and you're facing this problem, it's suggested to find and delete that update so you can resolve this issue. You can do it by going for the below steps:
As the first step open the Settings app to tab Windows Key + I.
Then move to Update & Security section.
Here just tap View installed update history option.
After the completion of the above steps, you will look the all updates that have been downloaded. Go for all new updates and keep in mind their names. Tap Uninstall updates.
In the end, you will see that the list of all updates will pop up. Just double-click on that update which you need to delete and follow the steps on the screen so you can delete it.
The time you delete the update and check in case the error with Cdpusersvc solved or not. If it has been sorted out then you should block such update from the process of installation in the future. Windows 10 downloads the misplaced updates via automatic processing, and if you don't want to block this update from installation, the error will pop up again.
3. Download Windows Latest Updates
In case you are facing errors related to CDpusersvc error code 15100 then there is this possibility that the issue might be the updates that are misplaced. Microsoft already knows about this error, and it's trying to resolve it. There are higher possibilities that the solution is there in the form of all Windows Updates.
Windows 10 installs the updates via an automatic process in the background by default, but at times errors step an update or multiple updates from installation. Users can solve this issue by checking updates on their own. By following the below steps users can do it:
As initial step navigates to Update & Security section through the Settings app.
Then press Check for updates button.
You would be able to see that Windows will find out all accessible updates and install all pending ones in the background. Once you will see that the updates have been installed, just reboot your system so you can download them. The time your system will update to the newest version, check in case the error is there or ended.
4. Isolate the Procedure
By isolating the procedure, users can also resolve CDpusersvc error code 15100. You are just supposed to run a few commands with the help of Command Prompt. On Windows 10, users can do it by following the below instructions:
Just tap Windows Key + X to open Win + X menu and select Command Prompt (Admin). In case Command Prompt isn't accessible then you can utilize PowerShell (Admin).
After the completion of above steps when you see that Command Prompt has opened, just write sc config cdpusersvc write =own and run this command.
The cdpusersvc process will be isolated the time you start the above instruction and might probably solve all issues relevant to it.
5. Stop the Service to Make a .bat File
If a user having the issue regarding CDpusersvc error code 15100, then just make a .bat file which will stop the problematic issue for you. To create that file, you just follow these the given steps:
As first step open Notepad.
After opening the notepad, You need to paste the below commands:
@ECHO OFF
SC QUERY state= all>servicesdump.txt
FINDSTR /L /C:"SERVICE_NAME: CDPUserSvc_" servicesdump.txt >CDPservice.txt
FOR /F "usebackq tokens=2" %%i IN (CDPservice.txt) DO SET CDPUserSvc=%%i
NET Stop "%CDPUserSvc%"
SC  Delete "%CDPUserSvc%"
DEL CDPservice.txt
DEL servicesdump.txt
Here tap on File > the Save as option.
Now select Save as to All Files and then write  fix.bat in File name field.  Just tap Save to save changes.
In the end, you actually need to find the fix.bat file and then run it. Now you see that the Cdpusersvc service has been stopped. Keep this thing in your mind that this is now an ultimate solution, so you have to repeat it in case the error pops up again.
6. Scanning your System in Case of Malware
Cdpusersvc comes along with an irregular arrangement of numbers, which seems out of the ordinary. There are many users who have misinterpreted this procedure with malware since it has a different name.
In case you are afraid that your system will get some virus we suggest you go for a complete scan of the system with the antivirus software. There are numerous antivirus tools available in the internet market, but for the best security, you should try the Bull Guard.
7. Performing a System Restore
Some users recommended that by going for the option of System Restore. If you're not aware of it, this feature will permit you to return all the changes and solve other issues on your system. You can run a System Restore by following the below instructions:
As the first step tap Windows Key + S and enter system restore. Select create a restore point from the menu.
Now window of system Properties will pop up. Just press the System Restore option.
Then System Restore window opens, tap Next.
Now check Show more restore point options. Choose the desired restore point and press Next.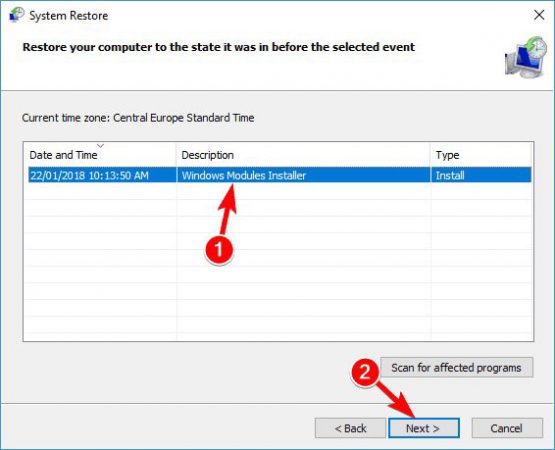 At the end follow the steps that are on the screen so you can restore your system.
When your system will be restored, just check in case the issue is still there or ended. Also keep in mind that this error occurs because of Windows Update, and in case that's the reason behind it, find out the update that is causing trouble and block it from installation. Microsoft has many errors to fix this issue, Actually, its forums are full of CDpusersvc Forum.
In simple words, we can say that nobody knows how CDpusersvc module works actually.